Did you think your life would be like this?
… or what you would be doing at this age?  It is what many people consider to be a midlife crisis.  More and more women and men, between the ages of 40 and 60, are finding themselves at a point in life that is very different than where they thought they would be.
One radio producer was quoted saying, "As a 51 year old, I concur that it's like hitting a wall waiting to figure out what you want to do next in life while you keep going through the motions."
While a former senior executive at a Fortune 500 company said, "There is an entire world of people out there on the hamster wheel…uninspired and just going through life's motions"
How to Reinvent Midlife Dreams gives the reader the chance to regain control of true ambition.  Author Kevin Huhn understands what it takes to realize life dreams.  He has been teaching and training people between the ages of 7 to 77 for over 30 years on how to discover what they want, find their purpose and design a plan to live a fulfilling life.  And unlike the old adage, "those who can't play teach," Kevin is an example as well as he continues to realize his dreams.
"How to Reinvent Midlife Dreams is the long awaited solution for people needing direction at a critical stage in their life."
Andy Hill, Best Selling Author – Be Quick—But Don't Hurry
One such dream was a one year journey across Canada with his wife and daughter. What seemed impossible to do for most became a way of life for Kevin and his family.  Living the millionaire's lifestyle, RVing from the east to the west and up to the north in Canada, also became a platform for completing Kevin's research of people's behaviour and beliefs which are shared in this book.
Taking nearly 10 years to complete, How to Reinvent Midlife Dreams is filled with facts, examples and steps to ensure the reader is inspired, educated and empowered to see what is possible for them right where they are.
Kevin has taken his life experiences and his findings from other people's findings and brought them together to identify commonalities and patterns.  What was found was what he calls the 8 Essential Elements.
"Kevin's belief in his own dreams has helped me to believe and realize my own."
Jackie Dowell-Irvine, Yukon's Fine Artist
Being inspired and told stories are uplifting and entertaining.  However they also act like a hot bath that soon warms down to a less than enjoyable temperature.  Facts and tangible subject matter lengthens people's interest.  And involving relevant application, exercises and participation, empowers one to begin to change from the inside out.
This book started out with just one vision of teaching how to realize HOPES, WISHES and DREAMS.  It has since become a guide and training tool to be used for years.  Kevin has shared his inspiration, his personal stories and his findings in a simple to read how to guide.
Order your digital copy today!
Order your digital copy of:
How to Reinvent Midlife Dreams
for ONLY $5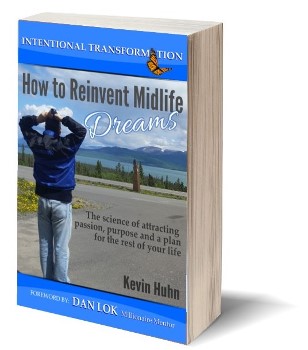 "If you're ready to take your life to higher levels and sustain continuous growth and improvement, then you must work with my friend Kevin. Here's the great thing about Kevin – he focuses on getting you rapid results by getting you laser focused, cutting you through the clutter and inspiring you to produce outcomes! And, Kevin comes from the heart and truly cares about making a positive difference in the lives of others! Do yourself a favor and work with Kevin today! You'll be so grateful you did!"