It's Your Time to Shine!
Focus. Vision. Reinvention.
---
Are You Worried? Do You Say, "Some day..."? Do You Think it is Hopeless?
Your Problem is not Your Problem.  
Your thinking is the problem.
Here are 3 Steps you can do to have what you want    >>>

"Congratulations… I believe that you will create a life of lasting fulfillment for yourself and for those you care about."

"At the beginning of our relationship you offered your skills and experience… over the past 6 months… I have been so incredibly busy not to update you as to what I am doing, which is going from zero income to being overwhelmed by offers."

"I have come across many great people in my life and Kevin is one who is a true breath of fresh air when it comes to following their passion and helping others along the way."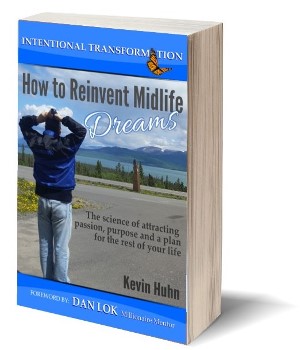 ---
The science of attracting passion, purpose and a plan for the rest of your life
Stuck, lost or unsure of what to do next in life, is what many people consider to be a midlife crisis. More and more women and men, between the ages of 40 and 60, are finding themselves at a point in life that is very different than where they thought they would be.
How to Reinvent Midlife Dreams is an inspirational book that delivers a blueprint for a fulfilling life. Kevin shares the 8 Essential Elements that are in each of us, how to shape them to attract purpose, passion and a plan for the rest of our lives. He will grab you with his real life stories like the charming one about Thomas, a young boy with a dream and uncommon imagination—it will melt your heart and strengthen your resolve to never settle for anything but excellence in your life.
FREE gift ($175 value) when you PRE-ORDER your copy today!
---
FEATURED Posts and FREE Resources